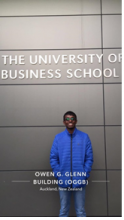 First of all I would like to thank Mr. Asoka Weerasundara, and Miss Sachini Lamahewa of Pro X New Zealand Limited for the tremendous support given to me in obtaining a student visa to New Zealand and for making one of my biggest lifelong dreams come true. Now I'm proud to say that I'm a student of University of Auckland, one of the world's most leading and reputed Universities.
It was an absolute pleasure working with Mr. Asoka and Miss. Sachini. Their services are really professional. They always abide by the New Zealand Immigration rules & regulations perfectly which I did not see in any other visa consultancy agency in Sri Lanka follow when I visited their offices. Following the rules is one of the main reasons for this company being able to obtain so many New Zealand visas for their clients including mine. Mr. Asoka is patient, genuine and a great human being. He always gives the right advice and information which are easy to follow and 100% accurate. Most of all he guides his clients in the correct path so that they end up acquiring the visa. Their visa process is very methodical and legal. Whenever I had a doubt or a question, I would send an email to Mr. Asoka and he would reply to me within the day. He checked up on me regularly through email even when he was out of the country. Miss Sachini also regularly sends me emails to check the progress of the process. Sometimes I used to call her more than 7 or 8 times a day. Amidst her busy schedule she would always answer my calls and attends to me in a very friendly manner. Mr. Asoka does everything according to a plan. If there's a certain document that needs to be submitted as soon as possible he makes sure that the document is submitted before the deadline.
These are only a few of the special things I mentioned above for anyone to know how quality their services are. I'm extremely satisfied with their service. There are not enough words to explain how grateful I am for all what they've done. They are extremely professional, organized and most importantly Mr. Asoka put my mind at ease throughout the entire process. Their work exceeded beyond my expectations not because of the fast replies but, also because of their personal touch and vast knowledge about the process. I am extremely lucky to have gone on this visa journey with Pro X New Zealand Limited. I can proudly recommend Pro X New Zealand Limited to anyone with so much confidence as the best visa consultancy agency in Sri Lanka to obtain a visa for the country New Zealand.