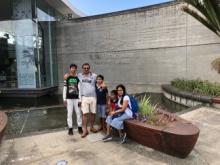 I would like to write about my experience with Pro-X and life in NZ for the people who is interested to study/work/settle in NZ.
First and foremost, you should research the available options and compare your status against these available options for the best match. Getting direct PR is may not be the plan A always, but you always have pathways to reach that in NZ. That's why you need the professional and trustworthy advice to pursuit your dream. I can recommend Mr.Asoka for this service without thinking twice.
I came to NZ in June 2019. I have been in contact with Mr.Asoka since 2017 when I was looking for migration opportunity. He is very sharp and straight forward gentleman. In the very beginning he said what he can and can't do without hesitation. I felt, it would be little difficult to deal with him as he needs everything in order but later, I realized that it is for my benefit only. At a point of a time I had to take a decision of my first visit which against his advice, but he stayed unchanged his decision as he knew that was the most suitable option which made everything right later.
NZ is a beautiful country and there are plenty of things to explore.
I believe this is one of the countries who provide 3 years post study work visa after completing the Level 8 qualification which allows you to work 3 years after your study. If you smart enough you will go further.
In nutshell, I would like to recommend Pro-X service and life in NZ for anyone interested to move temporary or permanently here.