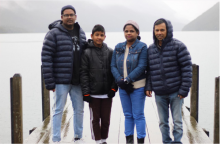 Our family's dream of moving to New Zealand became true in November 2015 under the guidance and assistance of Mr Asoka Weerasundara as our immigration adviser. Due to his genuine manner, we decided to stick to him for our future visa applications too. After moving to New Zealand, my next challenge was to find a part-time job while I complete my studies. Mr Weerasundara never exaggerated about the life in New Zealand and what it looks like for a new expatriate. That helped us to make up our minds to keep hunting for jobs and take up any sort of job that comes on our way. After applying for uncountable number of jobs, I was successful in getting my first job in a retirement village.
Due to my hard work and ability to handle more responsibilities, I was promoted to the position of the Receptionist in the same facility after completion of my Postgraduate Diploma in Business Enterprise, where I began my admin career in New Zealand. As the main applicant, I had to find a job of a certain skill level together with many other aspects to be eligible to apply for permanent residency. Upon consultation of Mr Weerasundara, it turned out that this job didn't meet those criteria and I had to start my job hunting all over again. Whenever I felt like I have lost my interest in applying for jobs with no luck, I used to call Mr Weerasundara, who always gave me a free dose of encouragement. He is such an approachable person, whose intention is not always money. He never compared oneself with any other, but shared some of the inspirational stories of his clients to boost our enthusiasm levels.
After a few months, I was fortunate to get into my current position as the Administrator in another healthcare facility. I contacted Mr Weerasundara in the very next moment to get his expertise idea about my job and its acceptability. I had no doubt about it after receiving a green light from Mr Weerasundara.
I approached him officially for his services to start the process of resident visa application. My EOI was approved and we were invited to apply for Permanent Residency by INZ. Our process was not the easiest, as we had to face a lot of unexpected issues down the track. However, with the continued support from Mr Weerasundara, we finally received our residency in NZ and feel relieved now. My husband and two kids are a great part of the success and their support during hard times and keeping their confidence on me are really appreciated.
With nearly three years of my experience with Mr Weeasundara, I have no hesitation in recommending him to anyone like us. There are a lot benefits in choosing him amongst many others. They are his accessibility 24 x 7 and not charging for each and every interaction with him.
It was a pleasure working with Mr Weerasundara from the beginning right up to the end of our New Zealand visa journey. I wish Mr Weerasundara and ProX NZ good luck in their future endeavours.