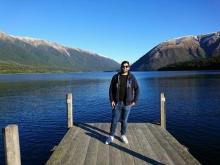 A big thank you to Mr. Asoka Weerasundara and Pro-x team!!!
I am sure that without your continuous guidance and help at every stage, my mission to New Zealand would not have been a success.
My experience of working with Pro-X from the start of my student visa to residency visa procedure for the past seven years has been exceptional.Mr. Asoka spent his valuable time with me explaining the process by providing reliable and accurate information and provided me the confidence of taking the plunge in submitting my applications. His professionalism and quality of work was outstanding, he kept me informed all the way through the process and communicated every bit of important information in a timely manner. The work was simply above and beyond my expectations.
Mr. Asoka is highly approachable and we continued to maintain a great friendship over the past 7 years. He gives you the best and most suitable advice and help in any kind of immigration matter by providing his honest opinion in line with requirements. I have no hesitation in recommending Pro-X services to anyone who would want to make a move to this beautiful place.
Thanks again for all your support and help. Good luck and all the best!