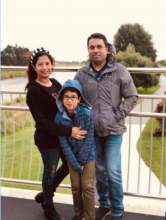 First of all, I would like to express my appreciation and big THANK YOU to Mr. Asoka and his team for handling my student visa application, my husband's work visa application and my son's student visa application with such great success in the shortest possible time.
After completing my two bachelor's degrees I started my carrier as a lawyer in Sri Lanka. In early 2019 I wanted to do my master's degree and searched for some opportunities available especially in Australia and New Zealand. While searching for opportunities me and my husband started looking for a reliable trustworthy agent to handle our visa applications and help us with selecting a university. While hunting for agents one of my friends introduced me to Mr. Asoka. My friend introduces him as a reliable/trustworthy/not money oriented/helpful/experienced person. Then in the middle of March 2019 I had a skype interview with him and he explained everything from selecting a university up to getting the visas. His explanations, ideas and guidelines were very helpful to our success story.
I must mention that working with Mr. Asoka is not easy. He wants everything in a perfect manner. All documents and other visa related things should be intact before submitting the application. I consider it as the key part of his professionalism.
I got my visa application approved within three months of submission and my family application was approved within three weeks of my approval. I started my university in October 2019 and glad to have my family with me.
Mr. Asoka is not just any agent; he takes his time to thoroughly assess visa eligibility and other requirements. He is extremely professional and delivers exceptional client service ensuring you are fully updated on all aspects of the visa application process. He was very responsive and helped me and my family with every step of the way to secure our visas. His absolutely free service for students is exceptional, and I will not hesitate to use his service again or recommend him. Many thanks Mr. Asoka and his team. I am extremely grateful for all your hard work and efforts.