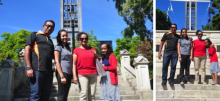 They say Promises are meant to be broken" but with Pro X the promise that was made was fulfilled !
I am Roshani Ratnayake from Moratuwa, Sri Lanka. My husband Anoj, and the two girls, Shamindri and Shavini reached out to Pro X in the midst of a storm or I would say a trauma when an agent dropped us off giving many reasons for the visa of mine /Shamindri's (not to be processed at the same time) at the very edge of the visa process. We were shocked and one of my good buddies guided me to Pro X; and Mr Asoka Weerasundera.
Asoka and team took over a challenge of obtaining two study visas and family visa..... he said he will never give up on this process but will try his very best to get all four of us to New Zealand.
Such a wonderful team of personalities put together worked as one team leading us and guiding us through until the end, where it was a real success. Asoka was such a great personality and with much knowledge with regard to immigration laws and regulations, did work with us with integrity and excellent customer care and was empathetic.
Today we are in NZ,
Pro X and Asoka never gave up on us. They are such a wonderful Company to work on you migration and study visa,
I recommend Pro X to anyone seeking student and family visas.
Leave your cases and concerns with Asoka and the team. You can be rest assured that they will do the their best to make your dream come true!.
My heartfelt gratitude and appreciation goes to Asoka & Senuri.
Warm wishes from Rosh an family!