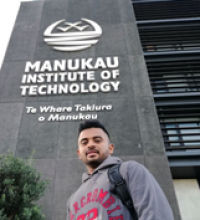 In 2007, I got an opportunity to be introduced to Mr. Asoka Weerasundara of Pro X NZ Ltd when my Mom and I were searching for study options in New Zealand. But due to some personal issues I was not able continue the process.
Again year 2017 I wrote to Mr. Asoka requesting his assistance to get enrolled in to a college of my choice in New Zealand. Within 2 ½ months period my dream come through, thanks to the professional guidance of Mr. Asoka Weerasunda of Pro X NZ Ltd.
I am so blessed to have had the guidance of Mr. Asoka Weerasundara to fulfill my dreams. If it was not for him, I wouldn't have been able reach my dream destination (New Zealand) for my higher studies in Graduate Diploma in Networking.
I would highly recommended Mr. Asoka Weerasundara to any student, as he always gives the right advice and show you the right path to achieve your goals free of charge.
Pro X NZ Ltd is the only place where you can expect genuineness and transparency throughout the process.
I write to express my sincere and heartfelt appreciation and gratitude for the highly professional and competent services, provided in both friendly and accessible manner. Without any hesitation I can recommend Mr. Asoka Weerasundara – Pro X NZ Ltd to any student who is aspiring to fulfill their future goals. He is the best in this industry as I have seen so many other consultants in Sri Lanka.
Thank you, Mr. Asoka. Your professional support is really excellent. I take this opportunity to wish you and Pro X NZ Ltd continued success in the years to come!