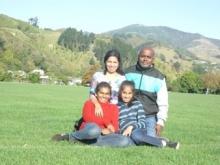 We are a happy family in New Zealand Thanks to Pro X- Sridevi Aloysius
My ambition from my young age was to serve in a developed country. Later I thought it might be a dream for various reasons.
Anyhow, I tried my level best to achieve my ambition by qualifying as an accountant by completing CIMA examinations.
When I was hunting for a change and a person who could help me, I came across a MoU that was signed between Nelson and Marlborough Institute of Technology (NMIT) in New Zealand, CIMA and a company named Pro X New Zealand Ltd.
At this stage, I was fortunate to attend a seminar organized for CIMA members and passed finalists. It was at this seminar that I met Mr. Asoka who is a citizen of New Zealand.
I expressed my interest in migrating to New Zealand to Mr. Asoka who gave me a very clear pathway to follow.
He encouraged me to get a 6.5 band score in IELTS to start my Postgraduate studies in New Zealand. I was so happy and thank full to god for making me meet such a kind person in my life.
From there he helped me in every step as he promised and we got our visas to New Zealand following the correct procedures.
When I arrived in New Zealand I thought my dream in young age has come true.
My two girls have enrolled in very good schools in New Zealand now. New Zealand Education system is very good. Both of them like it very much.
My husband also got a job within two weeks of our arrival.
Now my family is living happily in New Zealand thanks to Mr. Asoka & Pro X.
Mr Sanjeewa (local director of Pro X in Sri Lanka) is also a very friendly person providing a valuable service to customers.
I am really proud of them.