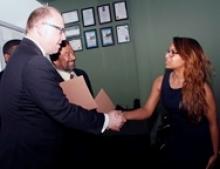 (Thiromi receiving her contract from his Excellency Grahame Morton- High commisior of New Zealand in India at the Pro X new office opening (Nudegoda)
I would take this opportunity to first thank Mr. Asoka Weerasundara and his wonderful, friendly team for the correct guidance and the genuine effort put on ensuring a smooth process with my application.
I am now in Auckland, studying Postgraduate Diploma in Management at Whitireia Community Polytechnic. Despite being miles away from home, New Zealand is a wonderful place to experience, with beautiful people and a diverse culture. It is a great country to particularly continue your higher education, where high standards are provided to international students. With all the advice from Pro X team, I would certainly add that I am happy to have made the decision in choosing this country as a tertiary student.
Most importantly I would like to specially thank your team for inviting me to be present at the Opening Ceremony of your new office and nominating me to have received the University Acceptance Documents from the Chief Guests of the event. I was truly honored!I'm pleased and grateful to have met, the most right, Pro X New Zealand team: a team of experience, validity, legitimacy, credibility and professionalism, who works FREE OF CHARGE, at the best interest of their clients. I undoubtedly propose and recommend this team to all you applicants, whom you can freely talk to and completely rely on.
Thank you once again for all the effort you take in making our wishes come true!
Best Wishes!